PD140
---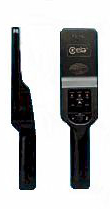 The PD140 series hand held metal detector is currently in use all over the world. There are over 20,000 in daily operation where security requirements demand a hand held metal detector with optimum performance. The unit has a large area of detection, which improves personnel processing.
Highlights
There is no need for routine or preventative maintenance on this hand held security metal detector due to the methods of construction.
The PD140 series hand held metal detector has three settings of sensitivity that allow the user to define the type of detection required (low, medium, and high). Battery life using a standard 9V is in excess of 150 hours operating time per battery with continuous use.