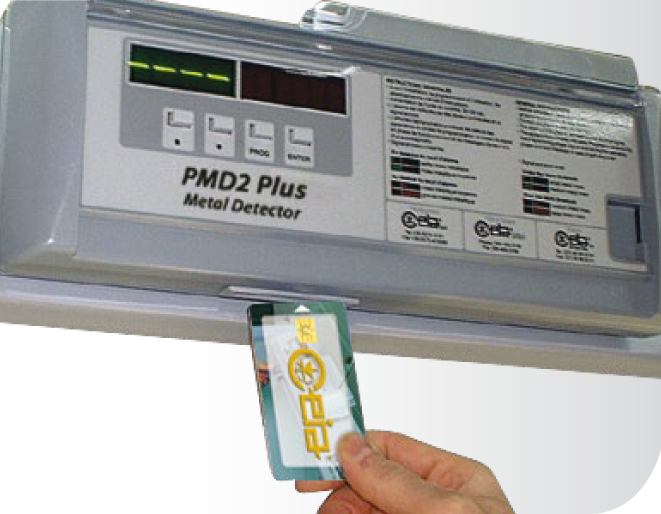 Capability to detect the full range of metal weapon threats even within body cavities.
Met-Identity technology for Identification of Threat Composition. The most advanced Security Standards require detection of all ferrous and non-ferrous metal weapons and of those constructed in special nonmagnetic alloys. The PMD2 Plus detects firearms and knives of this type, even when they are hidden within body cavities, and accurately indicates the position of the threat, its intensity and its prevalent composition. Inspection personnel thereby acquire thorough knowledge of the metal item and can act, according to procedures, with maximum effectiveness and security.
60 pinpointing zones with high resolution & precision: 20 Vertical, 3 Lateral.
4 Multi-Zone Display Bars, each programmable as entry Stop/Go and/or local alarm indication.
High visibility of the control unit and the zone indication independent from the operator position and the installation environment. Accurate signaling is essential for best operation and flow management. The PMD2 Plus provides the user with fully-programmable signaling. Both entry-points can indicate with a high level of accuracy, even simultaneously, the vertical and lateral areas of transit of the threats detected, and can also be configured as 'traffic lights' to control transits through the detector.
Flexible Acoustic Alarm Signaling System: 10 Continuous and Pulsed Tones. 34 Special Sounds.
10 Acoustic Intensity Levels. A complete acoustic alarm system allows personalization of the alarm tones and intensities, with a wide choice of continuous, pulsed and special tones at different levels of intensity. The wide volume control dynamic allows operation even in very noisy environments.
Very High Precision Transit Counter: In-Bound Transits, Out-Bound Transits, Alarm Rate, Automatic Compensation for repeated transits of the same person. The metal detector provides an automatic count of the people passing through the access point in both directions and the related nuisance alarm percentage.
Cutting-edge discrimination technology allows personal effects to be ignored, creating rapid transit flow. The transit volume magnetic scanning system, invented by CEIA and applied since production of the first zonal Metal Detectors in 1986, allows state-of-the-art detection and discrimination results. The PMD2 Plus has an extremely low nuisance alarm rate even at the strictest Security Levels requested today, and therefore allows high transit flow rates and the minimum need for intervention by inspection personnel.
Up to 50 built-in Security Programs: Up to 30 International Standards, Up to 20 Customizable Levels. Setting the Security Levels could not be easier and more versatile than in the PMD2 Plus. Users can choose directly from the known International Standards or request implementation of a Standard personalized to their own requirements. Users can also create their own work program and save it in internal memory.
Chip Card system for fast, simple and secure parameter changes (i.e. alarm volume and tone, counter reading, etc.) and security level selection. One unique characteristic of the CEIA metal detectors is the chip-card system, which allows Security Management to set the Security Level quickly, reliably and without having to program the device in any way.
Any security standard can be enhanced with selectable random alarm probability.
One touch guided automatic installation (OTS). Innovative function assisting the installation through an automatic step-by-step procedure.
Continuous self diagnostics assures monitored performance reliability.