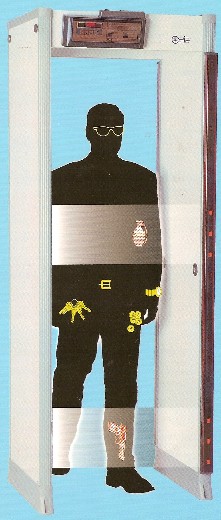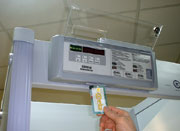 The PMD2 (acronym for Programmable Metal Detector) is available in both column and panel versions. The PMD2 generates an electromagnetic scanning field for the detection of metallic weapons inside a monitored passage. Thanks to this technology, the PMD2 Metal Detector allows weapons to be accurately located on people in transit, considerably speeding up search operations.
As with other models, the usable transit width is 32 inches, satisfying the requirements of public access regulations and allowing the person passing through the metal detector to be seen from any position.
A "height on person" display actually indicates, by means of illuminated LED's, the position of the weapon on the person. The location zones are not fixed, as in the case of Metal Detectors with multiple receiver-transmitter coils, but are variable and continuous so as to achieve optimum resolution
The PMD2 security metal detector is very easy to program through the use of Chip Card Technology allowing immediate programming of the system and the selection of International Security Standards (Security Level).